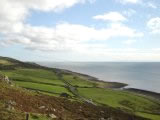 Sea View to the south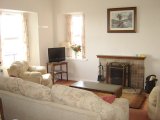 Sea Cottage Sitting Room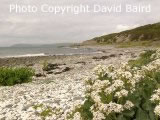 Garheugh Port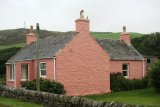 Garheugh Croft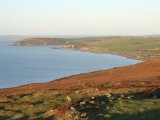 Luce Bay looking north
2 Self Catering Cottages on Luce Bay
The Croft and Sea Cottage are situated at Auchenmalg on the east coast of Luce Bay in this beautiful, unspoilt region of Scotland.
They each offer comfortable accommodation for 4 people and are equipped to Scottish Tourist Board 3 Star standard. Five people may stay at The Croft sharing two bedrooms.
Although they are totally self-contained, the cottages are close enough for families or friends to book holidays together. Both have extensive sea views and are two minutes' walk from the shore.
Prices include all linen and electric central heating, and well-behaved dogs are welcome. We have a non- smoking policy in both cottages. Groceries can be ordered in advance. Please enquire about prices for short out-of-season bookings.
There are good general stores in Port William and Glenluce, and supermarkets in Stranraer and Newton Stewart.
Galloway is a land of moors, hills and water. Luce Bay, on the western edge of Dumfries and Galloway, is a Special Area of Conservation and offers spectacular open views over land and sea. The sun sets over the Mull of Galloway opposite the cottages, and on a clear day it is possible to see the Isle of Man and Ireland on the horizon.
The calm and peace offer the chance of a truly restful holiday here.
This beautiful area has a rich archaeological history, while contemporary artistic and literary events draw well-known names. Bird-watching, walking, swimming, painting, discovering castles and standing stones or listening to eminent speakers or musicians: the cottages provide a comfortable base to explore Galloway's many quiet charms.